INLE
Inle is a vast lake located in the heart of Shan State which shares borders with Thai & Laos. And it climbs up to over 900 metres above sea level and outrageously beautiful. Inle Lake is located in the mountains so it is cooler than other areas. Inle has many interesting places and pagodas. We do sure that you may have un-usual experience for visiting to Inle.One of theme, Phaungdawoo Pagoda is an amazing floating pagoda in the Inle Lake. The Phaungdawoo Pagoda festival, the boat racing competition are great experiences at such time to visit for tourist. The floating markets and the lifestyles of the Inthars are also a total different environment for visitors.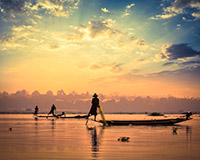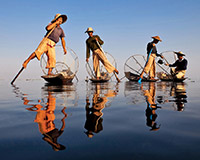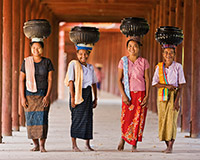 Inle Surrounding …..
Taunggyi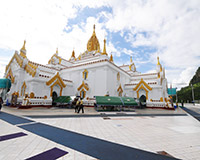 Taunggyi is situated in the southern Shan State and is the capital town of Shan States. It is 4,712feet above the sea level and has a moderate climate. The capital city of the Shan State, is situated on a high plateau surrounded by high mountains. It is situated on a high plateau surrounded by high mountains. As Taunggyi lies on a hill region, the atmosphere is conducive to good health especially by means of the salubrious mountain air.
In Taunggyi, the capital city of the Shan State, the people celebrate the Tazaungdine festival with Kahtein (offering of monk robes) as well as the releasing up fire-balloons into the sky. The Taunggyi festival is the biggest festival in the country. It is attended not only by Taunggyi Citizens but also by people from southern Shan State and many different races. Taungyi's Kahtein tradition is amazing and worthy of reverence.
Kalaw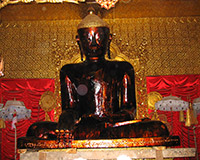 Kalaw stands high on the western edge of the Shan Plateau. It is 70 km west of Taungyi, about halfway along the Thazi-Taungyi road. This was a popular hill station in the British days and it is still a peaceful and quiet place. It is also pleasantly cool and a good place for hiking amid gnarled pines, bamboo groves and rugged mountain scene.
Nyaung Shwe
Nyaung Shwe is located in the Southern Shan State near the marvelous Inle Lake. Inle Lake is situated in Nyaung Shwe Township. To visit Nyaung Shwe, one has to take a flight from Yangon to Heho, and then travel by car or bus. Or one can travel by highway buses from Yangon to Taunggyi, then pass Shwe Nyaung and reach Nyaung Shwe. Then, you can travel by motorboat, from Nyaung Shwe to Inlay Lake. This town is the main transfer port to Inle Lake by ferry boats.
There are many interesting places in Nyaung Shwe where you can visit in a short time.
Kakku Pagoda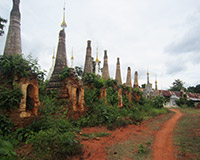 One of the Asia's largest and most spectacular ancient monuments is a wonderful Pagoda named Kakku. Kakku is about 33 miles from Taunggyi. It will take about 3 hours drive by car. Kakku is located in the Shan State. Kakku is in the territory of Pa-Oh people. It contains over 2,000 stupas with origins dating back many centuries.
Its exists not only as an outstanding example of tradition art and architecture but also as a testament to the religious devotion of one of Myanmar's many ethnic minorities, the Pa-Oh. For many centuries, the Pa-Oh has lived in peace, cultivating their land and devoting much of their energy and limited wealth to creating monasteries and pagodas. The decorative sculptures and figures are 17th or 18th century but some of the structures are clearly much older.